Peak District Cottage in the beautiful village of Youlgreave (Youlgrave) near Bakewell, Derbyshire
The cottage itself
---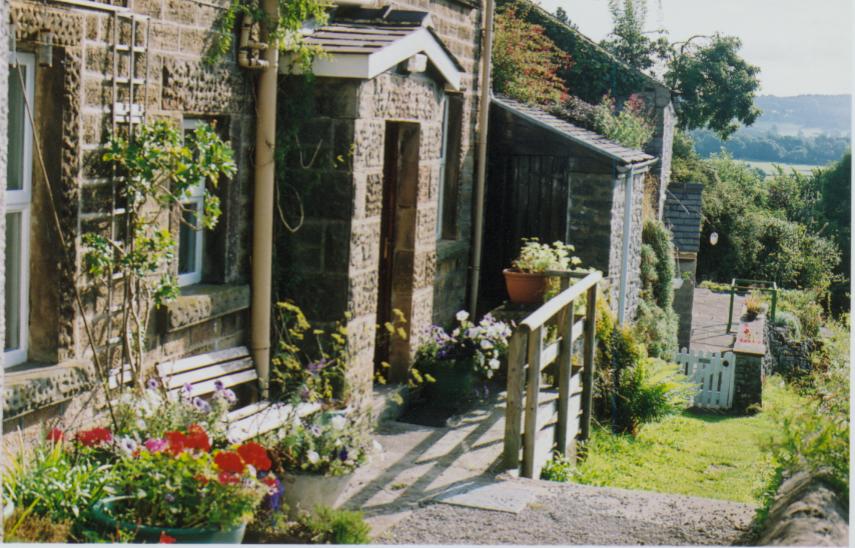 Cottage entrance
Knoll Cottage
Knoll Cottage is off the road, a very short walk down King Street, which is actually a short, sloping, stone-paved lane - characteristic of Youlgrave. The path turns a corner and you are suddenly met by a spectacular view across and down the dale - this is the view from all of the cottage. The cottage garden descends the dale in three terraces. On the same terrace as the house there is a basic patio and sitting-out area and also a storage shed for bicycles. We think that wildlife enthusiasts will not be disappointed by what they may see around the cottage! Outside the door is a bench where you can sit and enjoy the view. The cottage is totally south-facing as it is situated along the hillside, and on a sunny day gets hours of sun. It is very quiet - you can hear the birds, the river and sometimes animals in the dale below.
The cottage has gas-fired central heating throughout and is furnished in a traditional, clean and unfussy style supplemented by in-keeping modern additions which add to comfort and cosiness. It retains much of its original woodwork which is stripped and varnished. Walls are simply plastered and painted white. It has double-glazed windows which are also in a traditional style with wooden frames. The fireplaces are also traditional, although only one is currently used. Inside the cottage, downstairs is a beamed dining room with a solid fuel stove which burns wood. It has a large rug, a country-style table and dresser, a comfortable IKEA sofa and a small television. Off the dining room there is a small, well-fitted kitchen (which has a wide range of crockery, pans and utensils). Please note that it has formica worktops and pine cupboards built by a craftsman in traditional style. The cooker has halogen rings. There is an adjoining utility room with a washing machine and a condenser tumble drier and fridge freezer. Off the utility room, there is also a small bathroom with toilet and washbasin. These rooms are basic but functional, with white-painted rough walls, tiled floors and original farmhouse doors in varnished pine.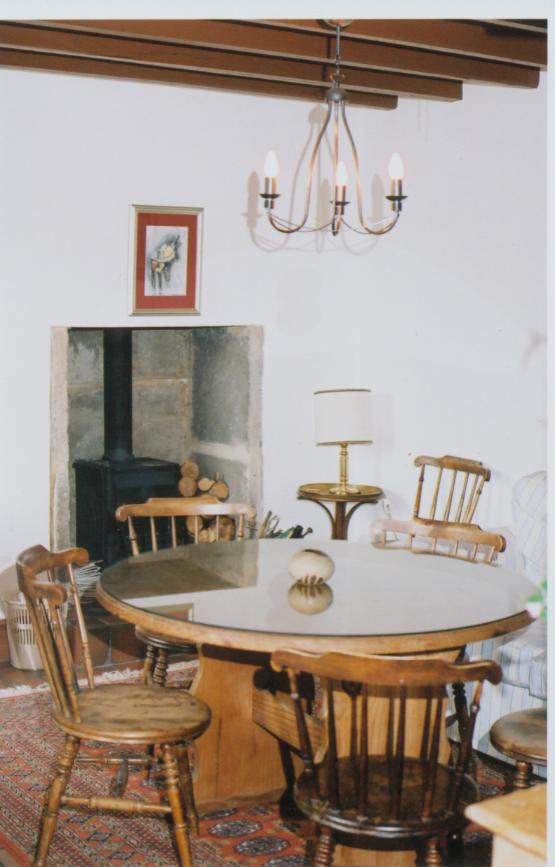 Dining Room towards woodburner
On the other side of the entrance hall, there is a sitting room with a traditional fireplace (not in use), a large L-shaped sofa, coffee and side tables and a television (satellite). There is a sisal rug.
The stairs from the hall lead to a corridor which runs the length of the cottage and gives onto bedrooms and a bathroom. There is a removable hinged wooden gate to fit across the top of the stairs if required.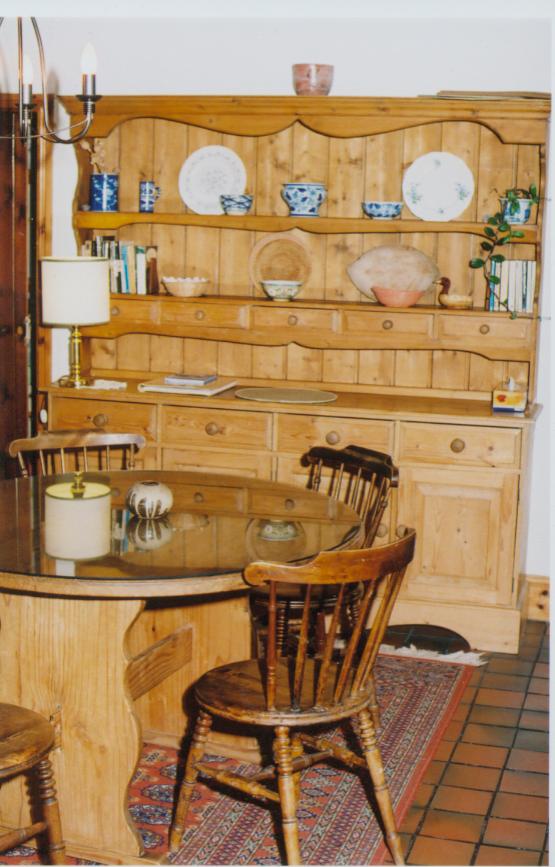 Dining Room
Knoll Cottage has three bedrooms and sleeps up to 6 people, 5 comfortably - one of the rooms can take 2 at a squash as there is a second bed which pulls out. This arrangement is fine for some people/siblings/friends but not all. Bedroom doors are traditional farmhouse style. Floors are stripped wood and are original. There are some loose rugs.
Bedroom 1 is a double bedroom with traditional furniture and, like all the rooms, has spectacular views over the dale. It is tastefully furnished and has a large antique wardrobe, a chest, a chest of drawers and a double bed. It has a loose rug.
Bedroom 2 has a single bed with a quality second bed stored under this. It has an antique chest of drawers and, as it is the smallest of the bedrooms, has a well-designed hanging rail with a shelf rather then a wardrobe. There is a small rug.
Bedroom 3 is also a double room but this has two single beds. It also has an antique chest of drawers and a wardrobe. It has a sisal rug.
The bathroom is also a double room but this has two single beds. It also has an antique chest of drawers and a wardrobe. It has a sisal rug.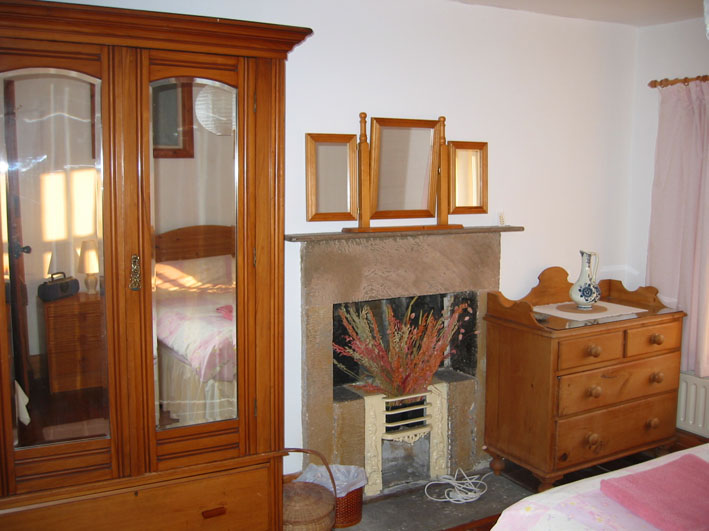 What is supplied and what do we need to bring?
Sheets, towels and tea towels are supplied and they are laundered after you leave. Beds are made up for your arrival. We try to leave a starter pack of logs in the cottage, but to be honest this has sometimes not happened and so it is best to plan to bring your own or buy them from nearby outlets en route. Also bring some kindling or firelighters. Bring torches (in case the ones we supply have accidentally been taken) as only part of the lane is lit. This is particularly relevant for winter evenings. Gas and electricity are included in the letting.
Other important information
As for many of the cottages in the area, Knoll cottage is served by a septic tank and this does not support the disposal of paper items (other than toilet roll), kitchen fat etc. down the drains. Bins are provided.
The lane slopes down to the cottage from the nearby road - access is not directly from the road. This is not a problem for most people but might be problematic for people who struggle with mobility.
We have done our best to portray this cottage as it really is. Please do not expect an away-from-home-slick-city-type-bijou residence but rather a cute, traditional, cosy, perfectly-located-for-view and peaceful country cottage.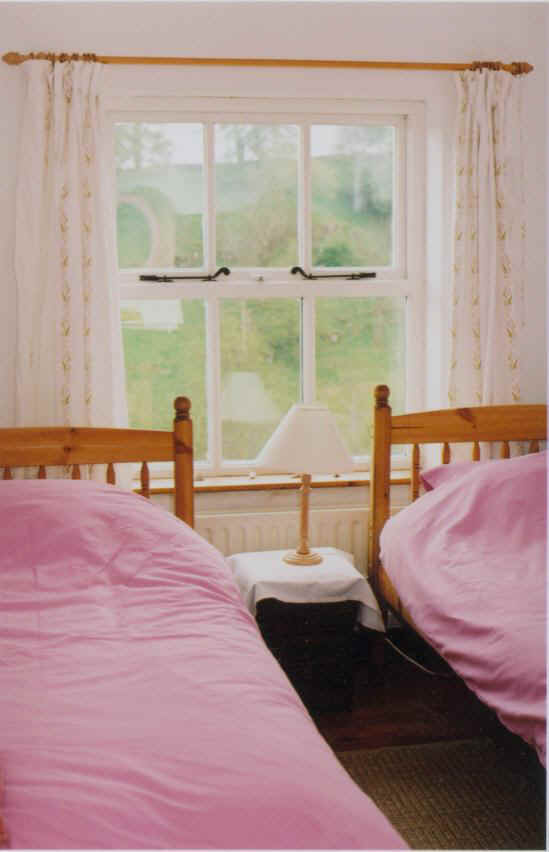 View across twin room